Offering the complete package
We have been building websites for businesses in Cullman Alabama since 2004. We specialize in website design and development and offer many additional services that compliment it well, like photography, graphic design and more.
As our client you will get a MyArch account. From your account you can manage orders, subscriptions, invoices, support tickets, and track the progress of your projects in the project manager. All from one place with one login.
We built our hosting platform on Google Cloud allowing us to provide our clients with a flexible, fast, reliable and secure hosting environment. Expect faster page loading and better search engine ranking for your web app on our hosting platform.
We boast a knockout team of graphic designers, programmers, and artists in Cullman Alabama to make sure the job gets done and gets done right. Our well-rounded knowledgeable staff members work in conjunction to create more inclusive solutions.
We are surrounded by screens of all different sizes every day and we like our information on the go. We aim to make sure your website design will look spectacular no matter what size screen your visitors view it on.
Custom web apps to help your business run smoother. We build appointment management, point of sale, customer relationship management, social networks, customer support, ecommerce solutions, employee training portals, and more!
Stand out from the crowd by avoiding those cookie-cutter 'royalty-free' images. With our on-site photo/video services you get a custom look and you give your site a more personal feel that builds rapport with potential customers.
Already have a WordPress powered site that you love but needs some added functionality? We can build custom and proprietary plugins that fit seamlessly into your existing website to add the functionality you need.
The ArchTronics support plugin is included in every website we build. At any time, you are only one click away from our support center so you can get the assistance you need fast right from your dashboard.
If you don't have time to run a business and maintain your website, we can help. With our maintenance plans you'll get additional features like, security updates, security scans, security breach monitoring, downtime monitoring, blacklist monitoring, full site backups, and more.
Content management systems allow you to add new pages, blog posts, products, and more any time you want with no limits. Too busy? We can make any changes for you. Check out our maintenance plans.
Today's consumers are drawn to original images and design. We have professional graphic designers on staff, ready to create pixel-perfect high quality custom graphics for any project.
How great would it be to communicate with your clients or allow customers to set up appointments right from your website. We can do that and MORE. Contact us today to see how we can make your dream website a reality.
Tier 1
$50/mo
30 min

/mo

5-7 days

$87

/hour

$75

/hour

$50/mo

Sign up today
Tier 2
$90/mo
1.5 hours

/mo

1-3 days

$87

/hour

$66

/hour

$90/mo

Sign up today
Tier 3
$180/mo
3 hours

/mo

12-24 hours

$87

/hour

$59

/hour

$180/mo

Sign up today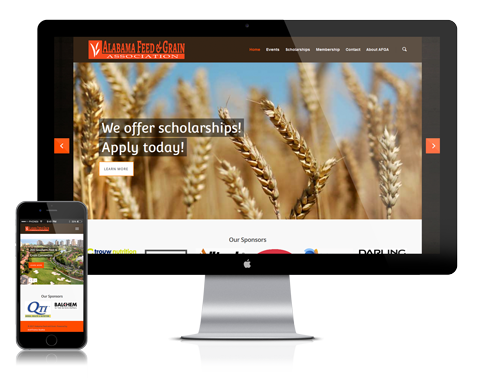 Design | Development | Logo | Maintenance
The Alabama Feed and Grain Association is a member run association in Cullman Alabama dedicated to the development, growth, and improvement of the feed and grain industry in Alabama. AFGA will offer educational and training opportunities that build skills and perspectives essential to the growth of its member organizations.
"We have been provided helpful information and timely changes to anything we have asked. I would recommend ArchTronics to anyone looking for any service they provide."
-Edna Waller, Director
Design | Development | Graphic Design | Maintenance
Dream Home Outlet is Fleetwood Homes' #1 dealership. They are locally owned and operated and strive to provide the best customer service and value for their customers. The owners Les Sandlin, Wendy Korshak and Moe Korshak will sit with you to custom build the home of your dreams with the colors and options you want.
"Not only were their prices the best as a package, they did what they said and better than what we expected."
-Moe Korshak, Owner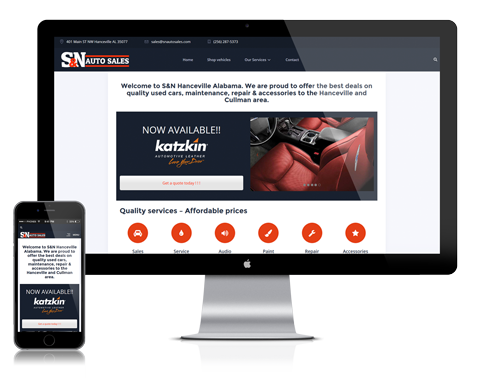 Design | Development | Logo | Maintenance
S & N Auto Sales is family owned and operated which assures you the convenience of excellent service, hospitality, friendliness, and affordability. When it's time for you or your family to purchase your next vehicle, give us a try. Our goal is to earn your lasting loyalty and satisfaction no matter what service we offer.
"Our new website is great. It's exactly what we were hoping for."
-Geoff Lay, Owner